With a rapidly growing economy and an influx of foreign investment dollars, doing business in China can be a lucrative investment opportunity. However, doing business in China, like any foreign country, means you will interact with Chinese business professionals and local officials. As a result, it is imperative to understand the Chinese business culture, etiquette, meeting protocol and general norms to maximize success.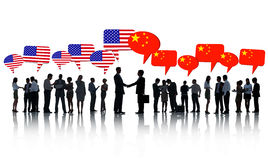 The following are a few key tips on business practices and negotiation approaches that one should expect to experience when doing business in China. This is certainly not a comprehensive list. I have attempted to highlight a few key differences that might be important the next time you are sitting at the negotiation table with a Chinese business associate.
Meeting & Greeting
Shaking-hands at the start of a meeting or via an introduction is expected. You should also include a slight head nod. Beyond that, Chinese are generally not fond of physical contact. You should refrain from touching, hugging or putting your arm around someone's shoulders.
Body language and movement are also important areas of focus. You should always be calm, collected and controlled. How you carry yourself or your body posture is an important signal that shows you are worthy of respect.
At Creative Choice Group, based in Florida, we work with professionals around the world. Understanding our target audience and making an effort to learn how others prefer to be greeted is viewed as table stakes for us when doing good business. This same principle applies when dealing with the thousands of diverse employees from our Etech Global Solutions teams as well.
Formal Rapport
Relationships in China are very formal. The Chinese expect you to represent your company in a professional manner. You should refrain from teasing or joking. Humour can get lost in translation and become offensive without you knowing. Having an intermediary can be of value as they can serve as a translator if needed but also help guide you through the bureaucracy, legal processes and local business networks. You definitely want to stay out of trouble and avoid lawsuits.
Gifts are good
Unlike the US where gifts could be considered a form of bribery, the giving of gifts does not carry any negative connotations when doing business in China. Business gifts are always reciprocated. They are seen as debts that must be repaid. The gifts should items of worth or beauty, but not cash. When selecting a gift to present to your client or future business partner, do not be too frugal. The gift should demonstrate your level of respect and interest. Don't be surprised if your Chinese counterpart asks you what gift you would like to receive. Do not be shy to specify something you desire. It is wise to suggest something native to the country to your interest and appreciation for the Chinese culture.
Meetings Protocol
Arrive on time. Punctuality is vital when doing business in China. Meetings should also begin with some brief small talk vs. diving right into deep discussion. And despite the "Zen" calmness of your Chinese associates, they are renowned for being tough negotiators. Their primary aim in negotiations is 'concessions'. You must be willing to show compromise and ensure their negotiators feel they have gained major concessions.
China is a country rich with history and tradition. Learning to honour these principles will help get you past the front door and help kick start partnerships for long term success.