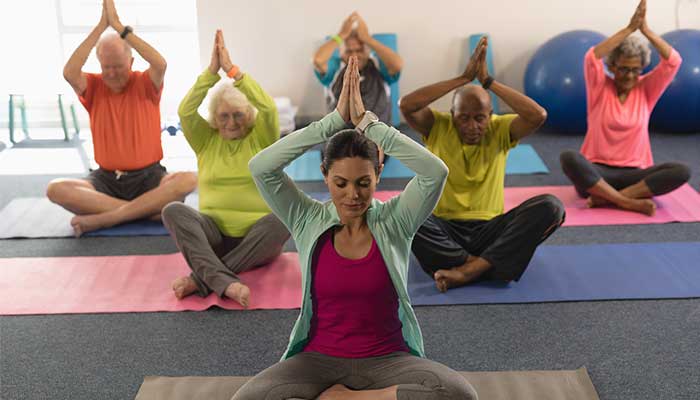 According to a report by the Administration on Aging, the United States is experiencing a dramatic increase in the numbers of people who live to an old age.  This phenomenon is not limited to the US but countries around the globe are seeing Senior Citizens live longer, happier lives.
The increase in longevity per the AOA report can be attributed to "advances in science, technology and medicine leading to reductions in infant and maternal mortality, infectious and parasitic diseases, occupational safety measures, and improvements in nutrition and education."  Education programs reinforcing the benefits associated to healthy eating and daily exercise have been identified as contributing factors to active lifestyles for seniors.
Yoga, an exercise discipline and well known for enhancing mind, body and spirit, has been identified as the fastest growing fitness/exercise program in the United States in the last seven years, according to the 7th Annual IDEA Fitness Program Report.  And while some might think yoga is limited to only those that are super fit and healthy, the fact is, senior yoga classes are popping up everywhere – health clubs, senior centers, assisted living residences, and even church basements.
Why is yoga catching on now?  The bottom line… Yoga works. For me personally, Yoga provides a sense of balance.  For many it is believed to slow down, and even reverse the aging process altogether.
In states, like Florida, where the highest density of senior citizens reside in the US¹, health and wellness practitioners are reaching out to educate and engage seniors to pursue yoga as a medicinal approach to a healthy lifestyle.   As a business operator in Palm Beach Gardens and Florida resident, I can attest to growing interest in yoga for seniors.  Our company, Creative Choice Homes is strategically located near a number of retirement areas.  We see active seniors getting up and out there – focusing on their quality life.  For that reason, I wanted to share some of the documented health benefits of yoga for mature adults.
5 KEY HEALTH BENEFITS TO SENIORS
Sleep: Older adults often have difficulty falling asleep and staying asleep. A recent study compared the impact of Yoga, vs. sleep-aid products.  The Yoga group showed a significant decrease in the time it took to fall asleep and an increase in the total number of hours slept (an approximate increase of 60 minutes).
Diabetes: A study at the University College of Medical Sciences in New Delhi suggests that, over time, Type II diabetics can achieve better blood sugar control and pulmonary functions when they follow a daily Yoga regimen.
Hypertension: After three months of Yoga practice, patients in a study targeted to Hypertension, experienced a decrease in blood pressure, as well as a decrease in blood sugar, cholesterol and triglycerides.
Excess Weight: Recent research found that practicing Yoga regularly for at least half an hour per week may help offset weight gain.
Chronic Pain: In as little as 4 weeks, one study demonstrated that yoga practice can aid those suffering with chronic pain and reduced the need for pain medication.
The physical benefits of yoga are proven and well documented.  However, the benefits to the mind and spirit are not to be overlooked.  Many experts speculate that for seniors in particular, contact with a group provides a sense of belonging and provides a mood elevating experience for those that may be living alone or have limited social interaction.  In essence, Yoga is good for you whether you are young or old.
¹ US Census 2010 reported that 17% of US Senior population is in the state of Florida