Dilip Barot, entrepreneur and Founder Creative Choice Group, praises University of Miami for focus on affordable housing.

Business leaders have a civic responsibility to give back to the communities they serve.  And while for most it provides a sense of pride, in reality, many businesses take advantage of a need and capitalize on the opportunity.  There is no shame in doing so. It is a win/win situation as businesses and residents prosper from the efforts to provide affordable housing, create jobs and generally strengthen the economy.  Having been in this business for over 20 years as a commercial real estate entrepreneur at Creative Choice Group, I have seen many success stories. But I was pleasantly surprised to learn recently about students from Miami University focusing on affordable housing.  Yes, right here in our own Florida backyard, students have taken the lead to create a project referred to as the Miami Affordability Project.  What is it?  According to the University website, this project provides a first-of-its kind free and publicly accessible tool for visualizing neighborhood-level housing market dynamics and developing data-driven strategies for housing and community development.  The tool was developed by the University of Miami's Office of Civic and Community Engagement and the Center for Computational Science with support from JPMorgan Chase & Co. The map serves as a research tool for planners, developers, community organizations, and scholars of urban issues. With tool offers over 100 data filters on housing, demographics, and property data to visualize and facilitate analysis of supply and demand for housing, funding programs, affordability preservation risks, and historic preservation.  For map access: http://www.miami.edu/index.php/civic_community_engagement/initiatives/affordable_housing/MAP/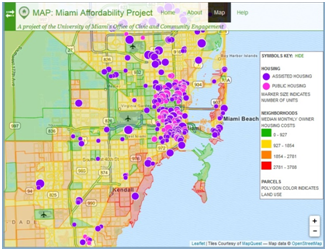 I was puzzled how a group of students recognized the need for affordable housing in our area.  According to an overview of their program, the University cited the economic recession of 2009 as having a significant impact on Florida.  In fact the state had the dubious distinction of having the highest combined rate of delinquency and foreclosure, with 22.76 percent of Florida mortgages either delinquent or in foreclosure.  The lack of affordable housing options combined with the ongoing foreclosure crisis means that people from low-income communities have few options when it comes to seeking safe, secure, and accessible housing.
The University believes that students have a real life role in promoting change in the community and translating local activism into public policy. To that end, they have created a number of partnerships with local organizations to help focus on enhancing the community we all live in. Some of the key partner groups include:  Catalyst Miami, City of Miami Gardens Department of Community Development, Florida Legal Services, Housing Finance Authority of Miami-Dade County, Miami Workers Center, Neighborhood Housing Services of South Florida and South Florida Community Development.
As the holiday season is around the corner, it does the heart good to see our youth focused on the community and putting classroom learning into real world experience.  Good job University of Miami!